TROUBLE AT THE CUP
(and everywhere else)
Nearly twenty years after his death, it was Black Randy's dick that really prodded me into action. I'm sure you understand. I'd collected a few odds, ends, and artifacts that cried out for sharing, but it wasn't until Rand McNally proffered a personalized copy of the first Black Randy EP that I felt the need to get this page posted. It's time to float a turd in the punchbowl, time to exhume but a few examples of Black Randy's dark genius to the delight of those who dig and the dismay of those who would rather forget. Gadfly. User. Instigator. Liar. Entertainer. So many things to so many people.


A PRIMER...
Your plan to google an up-for-anything Negress or perhaps a metal drummer living in Germany has gone horribly awry. Perhaps poor typing skills or terminal boredom... or fate... have brought you here. Or maybe you heard a BR track here and there and don't get what the fuss is about. Fair enough.

First things first, get the Pass The Dust, I Think I'm Bowie LP... the title betrays its essential nature. When Sympathy For The Record Industry first reissued this on CD in 1994, it included bonus tracks and extra photos but strangely, unforgivably neglected a key part of the package: the lyric sheet. The Metrosquad cranked out some tight beats, but the genius is in the lyrics. True believers should settle for nothing less than the original 1979 Dangerhouse vinyl release, though the Vinyl Countdown 2xLP reissue is quite nice.

As for the written word, Black Randy gets a well-deserved chapter in the amusingly snarky book WE GOT THE NEUTRON BOMB: The Untold Story of L.A. Punk. Many as-yet untold BR tales lurk in Dangerhouse label co-founder Rand McNally's unfinished tome.


PHONE CALLS...
Late last year, I dropped in at Dave Brown's place and among some various cassette tapes (Screamers, Eyes, Nervous Gender, Metrosquad practice sessions) lurked a Maxell C46 marked "Jenny Takes A Ride/Randy-Paul". We popped it in the player and wound up chortling no end. By day, Randy plied his gift for gab as a telemarketer hawking office supplies. By night, he could turn the phone from earner to entertainer. And hit the record button.

CALL #1: Paul Rat
For his San Francisco debut, Black Randy wanted all the underpinnings for infamy in place. When it came to offense for offense's sake, Randy knew there was only one up-and-comer to provide the requisite foundation of filth: El Duce and his band the Mentors. In this first call, Randy calls Paul Bachavich (a/k/a "Paul Rat") who booked for Temple Beautiful. In the background, Joe Nanini (Wall of Voodoo) can be heard egging on the action. Randy's impassioned pleas for the Mentors and against both Tuxedomoon and the Go-Go's are sinister punk comedy at its finest.




CALL #2: Jenny Lens
Sometime in 1979, Black Randy and most of the Metrosquad (Dave Brown, Joe Nanini, Bob Deadwyler) made an appearance on Richard Meltzer's KPFK radio show. Brown infuriated their host by doing a surprise on-air reading of an article Meltzer had written for Crawdaddy magazine, one fawning over Jim Morrison. Nanini stoked the fire by prompting Stan Ridgway (Wall of Voodoo) to call in again and again. At some point during the show, Randy announced that local photographer Jenny Lens had, um, an additional vocation.

In this follow-up phone call, Randy manages to move from backhandedly apologizing to spinning his radio appearance as good business promotion to threatening further trouble. Poor li'l Jenny never stood a chance!



Currently, Miss Lens can be found offering punk rock snapshots at jennylens.com. If you happen to have a million dollars and a high tolerance for self-promotion, do stop by.

For an initial glimpse into the darkness, this page here will have to suffice. For more about Black Randy releases, check out my Dangerhouse page. Though it won't be anytime soon, I do plan to post clippings from Flipside and Slash where many Black Randy exploits are chronicled. I'd love to see some clips of "Mexican Randy" from Ladies & Gentlemen, The Fabulous Stains uploaded. Anyone?

Like a wolf or a bat or something...

— Ryan Richardson
June 2007




---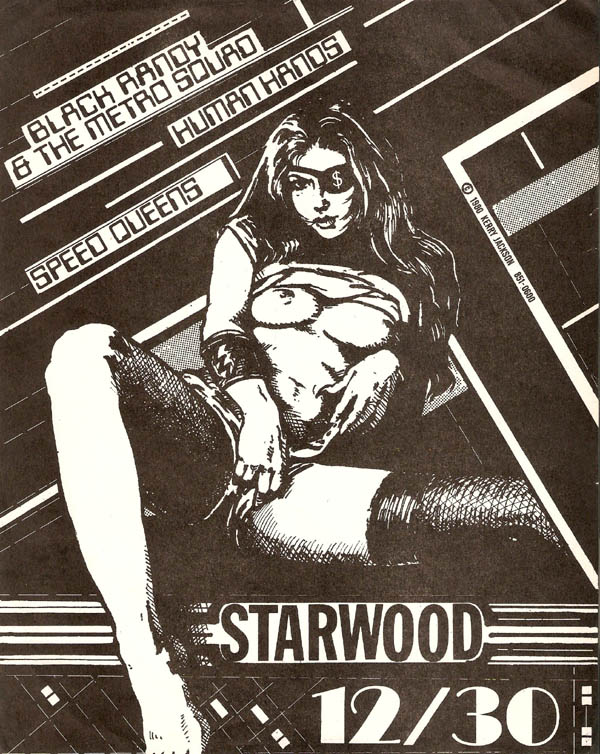 Please forward stories, suggestions, and complaints to the Minister of Information